My Medical Choice is an online system of integrated healthcare services for discerning members who prefer to manage their own medical choices.
First to launch is the medical alert service, which features the unique Safe Blood system, using a two-fold medical alert process, combining physical tools with online technology to provide you with peace of mind in a medical emergency.
Future services will include our own range of stylish and practical medical alert jewellery. We are also building a private register of functional doctors and integrative medical professionals at no extra cost to My Medical Choice members.
Physical tools: includes medical alert jewellery or 'tags' and a printed Advance Decision Notice (ADN) (commonly known as a Living Will) that folds down to fit into your purse or wallet. NHS first responders and A&E staff are trained to look out for these items in an emergency, and the data on the medical alert tags (and/or your ADN, if you prefer) includes login credentials, giving emergency services access to your online medical profile. In addition, both the medical alert tags and the ADN carry your ICE (In Case of Emergency) contact telephone number.
Online service: includes an online medical profile and more detailed healthcare instructions accessible by NHS first responders and A&E staff via the data on your medical alert jewellery tags. Whenever your online medical profile is accessed, an SMS text message is automatically sent to your ICE contact or your nominated Medical Guardian(s) alerting them to a potential emergency.
Safe Blood system: in addition to the jewellery tags, printed ADN, and automated SMS text messages, the Safe Blood service stores a downloadable Lasting Power of Attorney (LPA) document. For additional protection, the LPA allows you to appoint a Medical Guardian, and is essential in the event you are incapacitated and unable to communicate your wishes.
Members may also opt into the Safe Blood National Donor Database. This offers protection should you become incapacitated and unable to communicate whilst away from home on business or on holiday, for example. This service is currently only available within the UK.
Online Medical Profile: you can use the online profile to build and store your personal health profile and medical wishes to save on our private, secure database. You can use your online profile to:
Upload details of any medications you are taking
List any medical conditions you have
List allergies or food intolerances
List any previous operations or procedures you have had
List any implants or devices you have had fitted that may be significant in an emergency
List your medical care directives regarding treatments and procedures you may wish to reject
Name prearranged blood donors in the event you require a blood transfusion or need blood components
Appoint a Medical Guardian or Guardians to oversee treatment if you are unable to communicate after an accident or illness using a court-approved Lasting Power of Attorney document
Save copies of your legal documents on your online profile as a backup for your paper documents should they become lost or damaged.
Members may use My Medical Choice to simply alert first responders to a medical condition or allergy, for example, or to make use of some or all the options available with the Safe Blood system – the choice is yours.
Although the Safe Blood system can be used throughout the UK, please note that in Scotland the legal documents have slightly different names. The Lasting Power of Attorney document is called a Welfare Power of Attorney in Scotland. The Advance Decision Notice is known as an Advance Directive in Scotland. For ease of use, we have referred to these documents by the names used in England and Wales.
Yes and no is the short answer.
There is no Health and Welfare Power of Attorney in Northern Ireland. Making decisions regarding the welfare of a person is the responsibility of the next of kin. Nor is an Advance Directive/Decision Notice officially recognised in law.
This does not mean that you cannot use the My Medical Choice services - although there will be limitations in using the Safe Blood system, as you will not be able to appoint a Medical Guardian.
However, even though an ADN is not officially recognised in law in Northern Ireland, if it has been completed properly, the courts are likely to uphold your directives as stated in your ADN. We understand this is because the Jehovah's Witnesses have been using their own version of an ADN in Northern Ireland for years without major issues.
This means that you can use all the services provided by My Medical Choice except the Power of Attorney.
To compensate for not being able to appoint a Medical Guardian, we suggest you discuss your directives for healthcare with your next of kin in great detail and ensure they understand why you wish to reject the treatments and procedures specified in your ADN. You may then add them to your ADN as your ICE (In Case of Emergency) contact. This means they will receive the automated SMS text notification provided with the service if you are involved in a medical emergency.
We also suggest you have your next of kin witness the ADN document for additional protection – it would be difficult for your next of kin to object to the directives in your ADN in a medical emergency if they have added their details to the document and signed it, for example.
Members can download and complete an Advance Decision Notice (ADN) - also known as a Living Will - that folds down to wallet size for ease of use. A copy of your ADN is also uploaded onto your personal health profile page, so that in the event you are incapacitated and don't have your ADN on you, the first responder or A&E staff can still access it. The ADN gives details of your wishes concerning treatments, any medical procedures you want to refuse, any allergies, medications, medical conditions, and so on.
By uploading the ADN onto your personal health profile, the ADN is then backed up onto our secure database should it become lost or damaged. Our updated version of the ADN also has a section to add your Safe Blood login details.
You also have the option of using a Lasting Power of Attorney (LPA) document that you can also store on your personal health profile page. The LPA lets you nominate a Medical Guardian(s) to ensure healthcare professionals carry out the wishes you've added to your ADN for medical treatment.
First responders and A&E staff can access your personal health profile via login details on your ADN (if you choose to do so), and/or your medical alert jewellery – the most popular being bracelets and pendants. First responders and A&E staff are trained to look out for medical alert jewellery and check purses/wallets for cards.
When the NHS accesses your personal health profile, an automated SMS message is sent to your ICE or Medical Guardian's mobile phone, so they are alerted to the emergency and notified which hospital you have been admitted to, meaning they can contact the hospital immediately to act on your behalf.
Medical alert systems have been around for a while. They provide a warning to first responders and A&E staff that the patient has a serious medical condition or disability, and/or is taking certain medications, or for personal or religious reasons wishes to reject certain treatments, medications, or procedures. Medical alert systems can be as simple as wearing a silicon band with only one word on it, such as: DIABETIC. Or they can be far more complex with more detailed information provided on the medical alert jewellery, including In Case of Emergency numbers (ICE) and login details to access online personal medical profiles, such as ours.
The Safe Blood system works with medical alert jewellery that includes:
Login details to an online profile on our secure database
Medical Guardian's contact details (ICE), and
An Advance Decision Notice (Advance Directive in Scotland and Northern Ireland) that folds down into purse/wallet size, and includes details of allergies, medication, treatments you wish to reject, and so on.
This gives medical professionals the chance to provide you with the best possible care in an emergency in line with your health directives, and to avoid contraindications from hospital administered drugs. The system ensures staff responsible for your care understands any medical treatments or procedures you wish to reject, for example, a blood transfusion or invasive test.
The Safe Blood system also sends an automated SMS* text to your Medical Guardian(s), alerting them as soon as the NHS accesses your online profile, so they can come to your aid and oversee your care.
For the best possible protection, we suggest you wear your medical alert jewellery at all times, keep your Advance Decision Notice in your wallet or bag, and keep your online medical profile up to date.
* Please note that the automated SMS text service is for the use of NHS emergency services personnel only. My Medical Choice limits the number of automated SMS texts to 6 per year per member. Any abuse of the automated SMS text service by members may result in their contract being terminated.
The Safe Blood system is a main feature of the My Medical Choice service and gives members the option to make their own private arrangements for donors for blood and blood products in the event of a serious accident where a blood transfusion and/or blood components are required. Members find the donor system, coupled with the medical alert documentation, gives them extra peace of mind regarding the possible need for blood transfusions and the use of blood components in emergency situations. Members who opt in to the National Blood Donor System can also access potential blood donors throughout the UK.
Given the UK's history with blood transfusions, there's good reason for members to be cautious… Following the contaminated blood scandal of the 1970s and 80s, whereby thousands of people – most of whom had haemophilia and other bleeding disorders - became ill and died through HIV and hepatitis-infected blood, people have become a lot more discerning about available treatments and procedures involving blood and blood components.
Another worry for some is the recent media announcements by the NHS regarding a shortage of blood and blood products, with many people, particularly those with rare blood types, concerned enough to take matters into their own hands. Others feel that by making their own arrangements, they are easing the burden on NHS supplies. And some just prefer to personally manage all aspects of their own health.
In Scotland and Northern Ireland*, an Advanced Directive is not considered legally binding – however, if one of your medical decisions were ever challenged in the courts, provided the Advance Directive was valid and applicable to the circumstances, it is likely a Judge would rule in favour of respecting it. One of the general principles of the Adults with Incapacity (Scotland) Act 2000 is that if someone lacks capacity to make a decision for themselves and needs medical treatment, the wishes of the adult should be taken into consideration when making a decision on their behalf – and the ADN allows you to state those wishes regarding your medical treatment.
Our ADN is a simple one-page double-sided document detailing your medications, allergies, or any other useful medical information you wish to include, for example, the rejection of blood transfusions, vaccines, and any other treatments to you may want to refuse. The ADN also provides your GP surgery's details, lets you indicate if you have an LPA with an appointed Medical Guardian(s), as well as providing your ICE (In Case of Emergency) contact information.
Our updated ADN also allows you to add your login details for your online medical profile (if you feel secure doing so) and reminds first responders to look out for medical alert tags. The ADN folds down to purse/wallet size to show the medical alert icon to make it easier to catch the attention of a first responder.
The advantages of the ADN for the purpose of the Safe Blood medical alert system are that it is easily updated, and it is a portable document and can therefore be found by emergency services in the event of an accident, for example, as long as you carry it with you.
A copy of your ADN should be lodged with your Medical Guardian and your GP, and we have provided a cover letter template to use that makes it easy for you to notify your GP. We suggest you review the directives in your ADN every 2 years in order to keep your details up to date.
* In Northern Ireland, the relevant NHS protocol is: the Northern Ireland Pathway for the Management of Adult Patients Who Decline Specified Blood Components or Blood Products (CG424).
A Lasting Power of Attorney (LPA), (Welfare Power of Attorney in Scotland) (WPA) is a more detailed and complex legal document than the ADN and serves a different purpose.
An LPA allows you to name one or more Medical Guardians (known as Attorneys in the document) to oversee your care in the event you are not competent to make healthcare decisions, such as when unconscious after a serious accident. Once you've nominated a Medical Guardian, they must uphold your wishes for medical treatment, as stated in your ADN. The two documents support each other. It should be noted that the LPA has no further reach than as described, and you would need to set up other types of Power of Attorney documents if you require additional protection – to deal with your property or finances, for example.
Because the LPA is written in legalese, you are named as the Donor in the document (not to be confused with blood donor), because you are 'donating' the responsibility for your care to a Medical Guardian in the event you lack capacity due to an emergency. Medical Guardians/Attorneys must be over 18.
The LPA is also witnessed (called the Certificate Provider's Statement in the document) to state you are of sound mind, so family or medical personnel cannot challenge your directives later on.
As being taken to hospital – even a 'private' hospital – puts you firmly in the public domain, we now recommend only using the government version of the LPA and to register it with the court of protection. Emergency services will then be notified in advance that an LPA is in place via your ADN and personal profile, and can verify the court registration quickly and be on notice to take instructions from your Medical Guardians as soon as they are in contact.
A Medical Guardian (known as an Attorney in the LPA) is a person you trust to oversee your medical care in line with your documented wishes in the unfortunate event you were to become hospitalised and unable to communicate. You can nominate two Medical Guardians with the Safe Blood system – a primary and a back-up. Medical Guardians must be over the age of 18.
Your Medical Guardian(s) will be listed as your ICE (In Case of Emergency) contact on your medical alert jewellery, your ADN, your online profile, and named as your Attorney(s) on the LPA. You should ensure that your Medical Guardian(s) has a copy of your ADN and a printout of the names and contact details of your compatible blood donors from your online profile.
The automated SMS alert system will notify both your primary and your back-up Medical Guardians that you are in hospital and, should you require blood, they will need to contact your blood donors and arrange for them to get to the hospital.
A Medical Guardian requires no legal or medical experience. They simply oversee the implementation of the directives you've made in your ADN and liaise with medical staff regarding any questions they may have. When choosing a Medical Guardian(s), it's suggested you choose someone like-minded, trustworthy, and reliable.
If you've had a major operation in recent years, or given birth, your GP should have this information on your medical records, so check with them first. If you have donated blood, you are normally told your blood type about a week after donating.
What if your GP doesn't have your blood type on record?
One option is a home test kit. It's really quick and easy to do a finger prick test in the privacy of your own home. The most popular home testing kits is the Eldon Blood Typing Kit from ZoomHealth *.
The most professional option is to use a private medical ABO blood typing test. It is more costly, but it is something that you will only ever need to do once in your life. You will need to have a blood sample taken, which is sent off to a lab for analysis.
If you choose the ABO blood type testing, we suggest the Medichecks Blood Group Test for professional accuracy and a 4 working days turnaround time. The test costs £82, and Medichecks has a range of clinics nationwide should you need to have your blood taken by a healthcare professional.**
Please note that, whichever blood type test you use, the NHS may still insist on using their own ABO blood type test for you and your donors.
* Please note that ZoomHealth doesn't recommend their tests be used for the purpose of blood donation. If used correctly, however, the ZoomHealth test should give you your blood type for the purpose of organising compatible donors.
** If you need to have your blood taken by a medical professional, or a nurse, there will be an additional cost depending on the option you choose.
It may shock you to know that, in the event you are rushed into A&E, the hospital will not necessarily have medical records for you. This is because the NHS is broken up into individual trusts – usually by county. They each have their own computer system, and they don't share the information between trusts – and they can't access each other's records, either.
In reality, the NHS only has medical records for you if:
You have been a patient at the hospital before, and
You have provided detailed information when you attended
Or you are admitted into a hospital within the same Trust as the hospital to which you provided medical information in the past
If you have an accident in another county, the NHS has no way of accessing your records. And if you've never been to hospital before, the NHS can't access your records unless you can provide GP details. This will not work if you are in hospital when your GP surgery is closed or you are unable to communicate your GP's details.
So, you can see why a medical alert service is a good idea!
The best way to get the most out of our service is to think of the worst-case scenario, one in which you are seriously ill or have been involved in an accident and are unconscious or unable to communicate. Then consider what information would help those caring for you to achieve the best possible outcome for your health.
The following list of details will help emergency services and A&E staff give you the most appropriate care for your needs:
List any medical implants, such as: pacemaker, neurostimulator, aortic valve, and so on.
List any conditions you may have: diabetes (Type 1 or 2), autoimmune conditions, COPD, asthma, etc.
List any previous operations, or state if you have received a donated organ.
List any serious allergies – in particular, anything that may cause anaphylaxis: peanuts, penicillin, wasp or bee stings, latex, dairy, and so on.
List any medication or procedures you need to avoid: aspirin, ibuprofen, blood transfusions, MRI scans, invasive testing, etc.
List medication you take regularly, including the dose and frequency (1 a day, 2 a day, etc.)
List medication you take as and when needed: painkillers, diuretics, sleeping tablets, etc.
List medication or devices you carry on you: steroid inhaler, EpiPen, anti-anxiety medication, etc.
And remember… if you forget to add a medication or condition to your personal medical profile, or you develop an illness and start taking medication after signing up to the My Medical Choice service, you can update your profile and legal documents as often as you need to.
Yes.
No one but you has access to your personal health profile, except in the event of an accident. Even then, NHS staff has access to your data on a read-only basis. This means they can check the relevant medical details they need for your care, but cannot make any changes to the information on your profile – only you can do that.
To keep your data as safe as possible, the NHS must complete a 3-stage login process, which includes a 9-digit computer-generated login code. This is designed to ensure that people who know you well cannot access your data just by knowing personal details about you.
Keeping your login details safe: It is important that you take sensible precautions to keep your login details safe, such as:
Avoid taking off your medical alert bracelet or jewellery or leaving them lying around where others can access the login details
You should wear your medical alert jewellery at all times, as it's there for your protection in case of emergency
If you lose your medical alert jewellery, change the passcode immediately to keep your data safe
Your Advance Decision Notice should be kept in your purse/wallet at all times as back up. If you choose to add your login details to your ADN, then take extra care not to leave it lying around
Your ADN has your Medical Guardian's details on there, so it may be a good idea to share login details with your Medical Guardian, and also provide them with hard copies of your ADN and LPA in case of a power outage.
There is always a slight chance that this could happen with any online system. Banks, airlines, the NHS – even US military organisations – have been accessed by unauthorised users in the past. So it is not impossible for the database to be compromised and it would be misleading to tell members it can't be done, despite our security features and secure web hosting.
However, the information you store on your personal medical profile is nowhere near as detailed as that held by GPs and the NHS – information which is increasingly being shared with government departments and sold to private outside agencies.
With My Medical Choice, you are in charge of how much detail you add to your profile. Remember, you need only include medical information that will help save your life and improve your care outcome in the case of emergency. Sensitive mental health information, for example, is not necessary or required. So, unless you've lived your entire life without ever having registered with a GP or used a hospital, you'll find that far more of your information is being accessed by medical and NHS-associated private organisations than is being held on our database.
You will need to store your full name and address for NHS verification purposes (they need to know the information on your medical alert jewellery matches that on your profile to ensure you're the same person), but this data is nothing that can't be found on a recycled or discarded letter.
Most importantly, we will never ask that you store financial details on the database, or information that can be used to access your bank account – such as your mother's maiden name, for example.
We use a secure external payment system provider, and we never hold or store payment details or have access to them at any time.
Finally, no one at My Medical Choice has access to your personal medical profile. Indeed, should you lose your medical alert jewellery, it is your responsibility to go into your profile and change the computer generated password required for NHS login. We cannot do that for you, as we have no access to your private information.
The My Medical Choice system was created in such a way as to ensure you are fully protected even during a power outage or if the hospital's computer systems are down – which is an important and reassuring feature of the Safe Blood medical alert service.
The Safe Blood system uses a combination of online services and stand-alone physical tools and accessories to protect you at all times. The system was set up to include different layers of protection that insulate our members from external issues, such as electrical outages, the NHS computer system issues, and internal problems, such as unforeseen technical glitches affecting your online profile.
We've left nothing to chance.
Here's how the service works on a physical level…
We've already provided information about how the service functions when everything is working as it should. This is how it works in the event something goes wrong that's beyond our control:
You wear a medical bracelet or pendant at all times that includes the contact number of your Medical Guardian or ICE (In Case of Emergency) contact. Should the NHS be unable to access your online medical profile, they can contact your Medical Guardian/ICE for instructions on how to proceed with your care.
You carry a hard copy of your Advance Decision Notice in your purse/wallet that holds details of your conditions, medication, allergies, ICE or Medical Guardian's details, what is acceptable to you in terms of treatment and what treatments and procedures you wish to refuse, your GP surgery details, and so on.
You have a Medical Guardian who can give directions on your treatment and oversee your care to ensure your medical wishes are met. This can be done entirely via phone if there is no alternative. Please note that an ICE contact has limited powers compared to a Medical Guardian.
Your Medical Guardian is encouraged to keep a hard copy of your ADN and LPA somewhere safe, along with your list of potential donors. Your Medical Guardian should keep a list of your Safe Blood Donor contact details somewhere easily accessible for rapid emergency access; for example, a print off kept on the fridge or a notice board, and/or screenshot of the list to their mobile phone, or by adding them into their mobile contacts list ensuring they are clearly identifiable as your donors. This means that, even without access to the online database, the Safe Blood service can still be used and donors can be contacted and put on standby for emergency donation.
And finally, should there be any resistance to your prearranged choices regarding your care and treatment, you have your ADN lodged with your GP, and the original Lasting Power of Attorney hard copy document – both of which can be used in a court of law should your wishes be challenged. The LPA is especially useful if the emergency also involves your children.
So, should the worst should happen, we've still got you covered!
Yes.
Every adult who is mentally competent has the unalienable right to choose what happens to his or her body and this is enshrined in law. Before operations or invasive procedures, the NHS must have your – or your Medical Guardian's (Next of Kin in Northern Ireland) – signed consent to agree treatments and/or refuse others. Medical professionals MUST respect a patient's individual choices or religious beliefs.
In addition to the law, every NHS trust has its own internal policy document concerning the legal and ethical requirement to uphold an adult (16+) patient's wishes regarding freedom from physical interference. Where a patient is unconscious or unable to communicate, a nominated Medical Guardian may be asked to sign a consent form regarding the use of alternative procedures. A consent form will also be required when using the Safe Blood service, and supplies of blood and blood products from your own trusted donors.
The NHS states on its website that its "transfusion services discourage donation by parents, relatives or friends (so-called direct donation) for medical reasons." This stance appears to be based upon the screening they carry out on regular blood donors – although not everything can be screened for, and of course, the donation forms rely on the honesty of the donor. The key word, in legal terms, is "discourage".
This means the NHS has no legal basis for refusing your directive for your choice of donor.
In addition, the NHS warns that even with blood from regular donors, there can be an allergic reaction or a problem with a patient's heart, lungs, or immune system. This means that using the NHS donated blood is not without risk, either.
The NHS also states, regarding Pre-operative Autologous Donation (PAD) – which is where you give your own blood to store before an operation – that the technique "is not routinely available in the UK." The NHS does not recommend this procedure due to:
Lower than normal Hb (Haemoglobin) due to giving blood prior to the operation, and
Issues with the operation being postponed or cancelled, as blood has a shelf life of only 35 days
Whilst it may not be "routinely" available, it can be arranged. Anyone considering this option needs to discuss it with their consultant, as it needs to be carried out in premises licensed by the MHRA (Medicines and Healthcare products Regulatory Agency).
However, prior to surgery, you can also have other treatments that:
Lower the risk of bleeding, such as tranexamic acid
Boost your number of red blood cells, such as iron tablets or injections
These can reduce your chances of needing a transfusion
Fortunately for us, the Jehovah's Witnesses have laid the legal framework for refusing certain treatments over many decades. The Safe Blood service, in particular, builds on that legal framework because it is tried and tested and it works.
The Safe Blood system is set up in such a way as to protect you wherever you are in the UK.
Obviously, the NHS can access your profile nationwide. And they can take instructions from your Medical Guardian via phone once they've verified whom they are, since your Medical Guardian is backed up by the legal documents on your profile.
If you have prearranged blood donors, and they cannot get to you in an emergency where a blood transfusion is critical, you or your Medical Guardian can access the Safe Blood national database of blood donors to search for suitable matches in the area near the hospital you've been admitted to.
This was set up as added protection to the Safe Blood system, because there may be a time when the worst happens while you are away on business or holiday in another part of the country, and are too far from your prearranged donors to use them for blood donation, or they just can't get to you quickly enough.
The national donor database can be accessed via a simple search facility in your Account page that allows you to find people local to the hospital in which you are being treated. Either you or your Medical Guardian can locate donors by area and blood type and call them to see if they are available. Any treatments or medication taken by donors will be listed on their profile to help you choose the best donor(s) for your situation.
The use of the national donor database is a private arrangement between members and to be used at their own risk. We suggest you ask potential donors relevant questions regarding their health background and for more detailed information regarding any medication being taken to ensure compatibility for your needs and to protect against drug contraindications if you are taking medication. See: Can anyone donate blood?
To make the national donor database service as fair as possible to all members, anyone signing up with a view to using the service to receive blood in an emergency must, in turn, agree to donate to others in need should the situation arise.
Thankfully, it is very unlikely members will need to use the national donor database – but just knowing the service is available if you need it, gives you extra peace of mind.
Medical advances mean that there are now other options for keeping you stable while arrangements are being made for donors – and those options may even avoid the need for donors completely. The hospital can discuss this with you or your Medical Guardian.
Options include:
HAEMODIALYSIS
Suitable for Safe Blood users provided non-blood prime is used.
HAEMODILUTION
Intraoperative haemodilution is possible when the equipment is arranged so as to keep the patient's own blood in a constant link to the patient's circulatory system.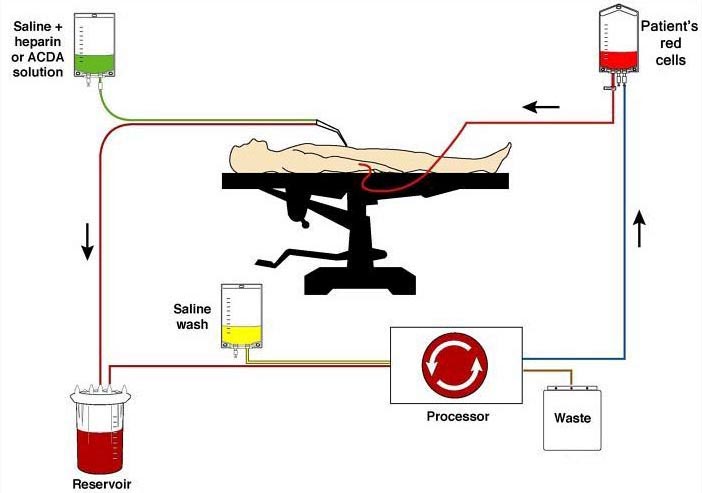 The image shows a continuous circuit in cell salvage, which can be requested by Safe Blood users. Image courtesy of Medical Illustration Department, Wythenshawe Hospital, MFT.
HEART BYPASS
This procedure is suitable for Safe Blood users provided that non-blood prime is used.
Immediate intra-operative auto-transfusion is an option, provided the circuit is linked to the patient's circulatory system and there is no storage. Members can also consider preoperative collection and subsequent reinfusion – we recommend members sign and date the blood bag label to ensure chain of custody remains intact.
EXPANDERS
Non-blood volume expanders are acceptable to Safe Blood users who are concerned about blood transfusions. Examples include: saline, dextran, gelatin, Ringer's Solution, haemaccel, and hetastarch.
No. There are a number of exclusions, and the NHS provides a comprehensive list of those who should not donate blood.
Some medical conditions, cancer, for example, preclude people from donating blood, as does taking certain medications. The NHS excludes potential donors that have had a blood transfusion in the past (from 1980 onwards).
Users of the Safe Blood service require donors to have had no vaccines at all since mid-2018 onwards.
If in doubt, check on the NHS website to see if your medical condition(s) or the medication you are taking means you cannot give blood. The donor form gives you the option to list any conditions you may have and/or medication you take in order to give those that need blood an informed choice.
The same options apply as detailed in a previous question.
You can also arrange to have donors on standby – just in case.
Yes.
In the event of an accident you will normally be taken to A&E. Private hospitals do not offer that facility, generally speaking and, where they do, they do not offer the service for children.
However, if you have elected to have surgery in a private hospital, you can make them fully aware of your treatment requirements in advance and allow them access to your personal health profile in case of an emergency.
This is an important subject, so it's covered step-by-step in the Guides supplied with the ADN and LPA documents on the member's Account page. The Account page is accessible once you sign up to be a member of the service.
In brief, you will be giving a great deal of power to your Medical Guardian in the event of a serious accident or illness where you are incapacitated – so choose them wisely.
You will also need a Witness to state that you are of sound mind, and separate Witnesses to sign off on certain segments of the LPA. This is all explained in the Guides. Although a lengthy and comprehensive document, the LPA does NOT require legal expertise to complete and does not require the use of a solicitor. You simply fill in your personal details and arrange Witnesses to verify the details as being true.
The ADN, however, is a much simpler document and can be Witnessed then used right away, so you have immediate cover.
Not at the moment – although we plan to have our own range covering the most popular options in the future.
However for now, we have provided links in your Account page to reliable sellers who stock an impressive range and can engrave in-house.
To ensure that you order the most suitable jewellery for your needs, once you have signed up we provide an online credentials list that contains the precise details required to include on your jewellery tag (see example shown), so you simply choose the style you like in the size and materials most suited to your needs, then copy the list of details to be engraved on your tag and paste it onto the order form. You then send the credential list off with your order.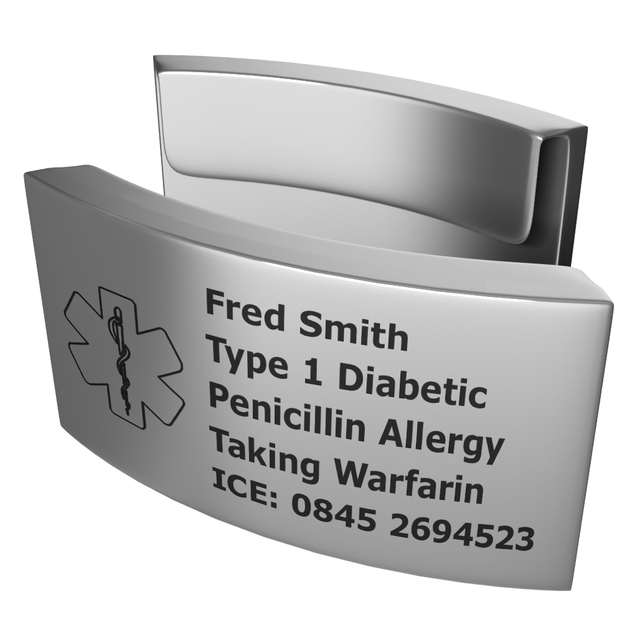 The credentials list we provide as part of the service is important to avoid human error when placing an order for jewellery. Writing the details out yourself may lead to mistakes that could cause login issues for emergency services if you ever need their help.
Please be aware that medical alert jewellery tags can hold only limited amounts of data. For their 'Display Name' (the name used on their medical alert tag), members with long names are advised to use their first name initial plus surname, or in cases where both the first and surname contain too many characters to fit onto the jewellery tag, just the first name or the surname.
The NHS will be able to find your full name when they login to your online medical profile, and can verify you via your Display Name on your online profile and date of birth, for example, or by confirming your full name with your Medical Guardian(s).
For members with long names, or those who prefer a little extra space for their credentials, we suggest Life Saving Engraving or The ID Band Company, as their jewellery tags hold up to 5 or 6 lines of text with a maximum of 25 characters per line as standard (including spaces).
The annual subscription is normally £30, but to celebrate the anniversary of our service going online, you can currently join up to My Medical Choice for half price, making the annual membership only £15. Access to all the services detailed above is included and you can access and make changes to your profile and documents as often as you need to.
You can sign up here to begin using the service.
Please note that the medical alert jewellery is not included in the subscription. You pay directly to the seller you choose to purchase the jewellery from. We suggest the sellers* we have listed, but you are free to choose whatever medical alert jewellery you like from any supplier you prefer. Just ensure the tag has a large enough surface to hold your login credentials – although the seller will let you know if the jewellery you have chosen is suitable or not before they engrave it.
The cost of medical alert jewellery varies tremendously. It really depends on your budget and whether you favour functionality or style. For example, you can choose simple coloured silicon bands that cost a couple of pounds, or choose a bespoke designer option in precious metals for a much higher cost. It's entirely up to you. Both options will do the same job.
For those on a tight budget, the updated ADN can now be used to hold your login details. There are other accessories you can buy, such as key rings and plastic holders for your ADN, but they aren't necessary to using the service.
* My Medical Choice does not receive commission from any of the sellers listed. The sellers are suggested solely for your convenience.
We really hope all our members are happy with the services provided by My Medical Choice and we will do our best to put things right quickly should a problem occur that is within our control. However, we appreciate that there may be occasions when a member decides our services are not quite right for their needs and they wish to cancel their annual subscription renewal or their current contract.
Subscription renewal
At My Medical Choice, we understand that unforeseen events happen and that we all lead busy lives. It's easy to forget to update card details when the previous one expires, or perhaps there aren't available funds in your account due to an unexpected expenditure, for example, or a long spell in hospital.
For peace of mind, My Medical Choice will send you 2 reminders prior to your annual subscription being due, and we won't automatically cancel your membership on the date it expires if your subscription has not been paid. Instead, we offer a very generous 2-month period in which to renew your membership before your account is deleted, plus further reminders to pay.
If you decide to actively cancel your annual subscription, it can be done easily with one click. We then allow a further 3 days before deleting your account just in case you change your mind or the account was cancelled in error.
Cancellations and refunds
Members may cancel their annual My Medical Choice membership subscription for a full refund provided they:
Cancel the contract within 14 calendar days of paying their subscription, and
Have not used the Safe Blood automated SMS text service, and/or
Have not used the Safe Blood National Donor Database
Members who cancel their contract before 14 calendar days, but who have used the Safe Blood automated SMS text service, will have the cost of any SMS text services used via the Safe Blood service deducted from their refund plus an admin fee of £10.
Members who cancel their contract after the 14 calendar days cooling off period may be subject to an administration fee of £20 plus the cost of any automated SMS texts used during their period of membership.
Members who have used the Safe Blood National Donor Database service after paying their annual subscription will not be entitled to a refund.
Cancelling your initial payment
When registering with the My Medical Choice service for the first time, your initial payment can be refunded in full if you cancel within 14 days, as long as you have not downloaded any of the documents from your Account page prior to requesting the refund.
Please note the terms of our Cancellation Policy and T&Cs do not affect your statutory rights under the Consumer Contracts Regulations 2013.
Full details of our Cancellation of Contract Policy can be found here.
Below you will find links to further information regarding the topics covered on this website.
Legal Documents:
Advance Decision Notice (England and Wales):
https://www.nhs.uk/conditions/end-of-life-care/advance-statement/
Advance Directive (Scotland and Northern Ireland)
https://mydecisions.org.uk/help/scotland-and-northern-ireland
Lasting Power of Attorney (England and Wales):
https://www.gov.uk/power-of-attorney
Welfare Power of Attorney (Scotland)
https://www.gov.scot/publications/code-practice-continuing-welfare-attorneys-second-edition-updated-february-2018/pages/3/
Enduring Power of Attorney (Northern Ireland):
https://www.nidirect.gov.uk/articles/managing-your-affairs-and-enduring-power-attorney#toc-3
Refusing Blood Transfusions and Blood Components
St George's University Hospitals Trust produced the document in this link – however, all NHS hospital trusts have very similar policies in place for refusing blood transfusions and blood products.
https://www.stgeorges.nhs.uk/wp-content/uploads/2019/09/CLH_BTRA_02.pdf
Children and Young Adults
Minors and Gillick Competence
https://www.nhs.uk/conditions/consent-to-treatment/children/
Children, and Young Adults (over 16-years but under 18-years) and Consent to Treatment
https://www.nhs.uk/conditions/consent-to-treatment/children/
Office of the Public Guardian
customerservices@publicguardian.gov.uk
Telephone: 0300 456 0300
Textphone: 0115 934 2778
Monday, Tuesday, Thursday and Friday, 9.30am to 5pm
Wednesday, 10am to 5pm
Donating Blood
Blood given via the NHS is routinely tested for: infection with hepatitis B, hepatitis C, hepatitis E, HIV, HTLV, and syphilis. Blood may also test for malaria or West Nile virus.
https://www.scotblood.co.uk/about-blood/blood-transfusions/
Scotland already has a system in place in which blood donors register to be on standby to give blood within 24 hours:
https://www.scotblood.co.uk/giving-blood/blood-donor-24/
Donating in Wales:
https://www.welsh-blood.org.uk/giving-blood/
Who Can Give Blood?
NHS blood and transplant website:
https://www.blood.co.uk/who-can-give-blood/can-i-give-blood/
NHS Wales:
https://www.welsh-blood.org.uk/giving-blood/can-i-donate/
NHS Scotland:
https://www.scotblood.co.uk/giving-blood/can-i-give-blood/
NHS Northern Ireland: